Fall Trends 2020
Author: Sydney Dezeeuw // [Cure Design Assistant]
Somehow we are already in the midst of Fall 2020! If you've been quarantining in your home for most of these spring and summer months, you may feel you need some new home inspiration to keep your motivation going. This fall and winter we're seeing some throwback trends with modern twists. 
Earthy tones will forever be a staple for the fall months. Some of our favorites coming back this season are terra-cotta, cinnamon, olive, caramel, mustards, and the list goes on! Incorporating these colors can range from little to no commitment, to lasting for years.  
Painting a room or even an accent wall gives such a statement, and is such an easy way to incorporate these fun fall colors. Painting an entire room may seem like a big commitment because we don't tend to paint our walls every time a new trend comes out. However, with the earthy tones being almost neutral, switching out accessories could help with keeping up with the  trends while keeping the wall color. 
A step down from painting could be including these earthy tones in furniture. Leather is a great option that falls perfectly in some of these color trends, but is also timeless and can be used in many other aesthetics.    
Most likely the easiest way to hop on these colors without the commitment or breaking the bank is with accessories. Just by adding new bedding, pillows, art work, etc. can completely change a space. 
Another big trend coming back that we are also seeing in fashion, is vintage aesthetics. Specifically trends from the 70s. Looking back, you may be thinking the 70s is not a time period you want to see coming back in style. However, taking some key ideas from that time  can actually be made to look very stylish now. 
The return of boho and retro styles that were seen a lot in the 70s are coming in quick! For example, shag carpet. Not something I think a lot of people would particularly want to make a comeback, but using a shag area rug mixed with some modern furniture brings in the vintage feel. 
Rattan and macrame. These give of that boho hippie aesthetic that   was so prominent in this era. Rattan can give that bohemian vibe that is very popular right now, but can also be used in more eclectic spaces. Macrame is an easy way to add some texture, softness, and or color to the walls. We all know what goes around comes back around in time with trends, and we're excited for that era to be having its moment again, (with a few tweaks of course!)
Various images saved via pin from Pinterest!  Original designers/posters unkown
The following two tabs change content below.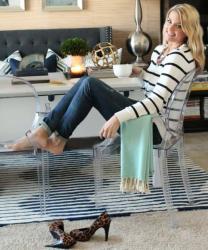 Wow time flies!! 12 YEARS!! My team and I are so thankful and grateful to all of our clients, industry partners, family, friends and fans. Cure Design Group has been like living a dream…a dream that was developed to live out my passion and inspiration through my own firm. Creating a way for designers to be creative and supported, a way for me to raise my girls and have work/life balance. I think this is something every Boss Babe wants right? Prior to CDG's inception, I had spent 10+ years in upper management of the Fashion and Interior Design Industry. With a passion in marketing, merchandising and design, my diverse background led me into designing and creating this Interior Design Firm. With my education and experience in the industry, I am able to support my design staff and you as the client through the design and special order process to ensure the best possible experience. I am passionate about my people, my team and our clients. It is my personal mission to provide a fun and interactive environment and I will do my best to uphold your personal standards for excellence.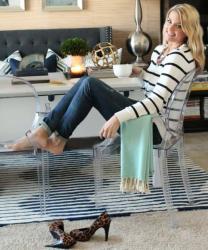 Latest posts by Sara Luigs (see all)