How to make a room feel larger // Tips + tricks from the Pros
Author: Sydney Dezeeuw / Cure Design Assistant
You may know the struggle of trying to make a room look larger than it is whether you're a student living in the dorms, paying for an overpriced apartment in the city, or maybe you just have a room in your house that doesn't seem to fit your things. Luckily there are ways to fit the furniture you need and trick the eye into making your spaces appear larger.
Keep the room light. 
Yes, this is a common myth and is disputed by the industry insiders.  However, depending on your space, painting the walls dark will close up your space, making it appear smaller. Another way to do this is to take as much advance of natural light as possible. Placing large mirrors can also help bounce the light around the room making it brighter. Try keeping your window treatments open as much as possible and matching the light colored walls with light colored drapes. 
Bring your eyes up. 
One of the easiest ways to do this is to hang your drapes from the ceiling to the floor or using a contrasting ceiling color. This will give the illusion that the room is taller. It is also best to use one larger piece of artwork rather than a collage of smaller pieces. Especially when the large art piece is vertical, it will bring your eyes to the ceiling. A gallery wall could make the room appear more cluttered and therefore, smaller. 
Space planning and modular furniture. 
Finding furniture that can either be used in multiple ways or can be folded or stacked will give you a more open space without cluttering the room with unnecessary furniture. Filling the space with a few larger pieces is better than a lot of smaller ones. Just because a room is small doesn't mean you need to push everything against the wall. When you can see open space around your furniture it makes the room appear larger. 

Get rid of the clutter.
We know having a clutter filled room will make it appear busy and chaotic making a room seem more crammed. Not every wall needs something hanging and not every shelf needs something sitting. Choosing certain furniture such as pieces raised on legs or clear acrylic fools the eye that there's more space than there really is.  
Vertical and horizontal lines.
Whether it's shiplap on the walls, long floor tiles, tall bookshelves, or a wall to wall desk. Playing with the movement of the room makes it seem taller and longer. 
Small spaces may be tricky, but they're all about being smart and creative. We would love to hear some of your favorite tips and tricks you use as well!  Make sure you follow Cure on Instagram for more secrets, project reveals and behind the scenes!  
Click the inspiration image to view source!
The following two tabs change content below.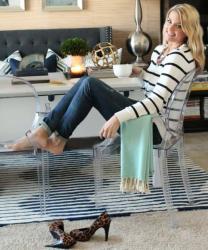 Wow time flies!! 12 YEARS!! My team and I are so thankful and grateful to all of our clients, industry partners, family, friends and fans. Cure Design Group has been like living a dream…a dream that was developed to live out my passion and inspiration through my own firm. Creating a way for designers to be creative and supported, a way for me to raise my girls and have work/life balance. I think this is something every Boss Babe wants right? Prior to CDG's inception, I had spent 10+ years in upper management of the Fashion and Interior Design Industry. With a passion in marketing, merchandising and design, my diverse background led me into designing and creating this Interior Design Firm. With my education and experience in the industry, I am able to support my design staff and you as the client through the design and special order process to ensure the best possible experience. I am passionate about my people, my team and our clients. It is my personal mission to provide a fun and interactive environment and I will do my best to uphold your personal standards for excellence.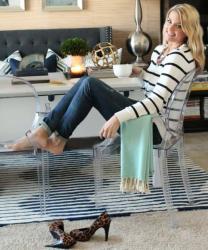 Latest posts by Sara Luigs (see all)