FINISHING TOUCHES AT FRANCIS PARK // ACCESSORIZING A BEAUTIFULLY RENOVATED HOME
A friend of mine told me she shared my info with a friend of hers, a woman who recently renovated her sprawling ranch in South City just across the street from Francis Park.  When I answered the phone to a cheery, bubbly voice on the other end, I was so excited to see how I could help her make their house a home!
Her home was a classic city home, built in the 50's.  Her family moved in August  of '18, and in less than a year, she's already completed a number of remodel projects including additions to the master bedroom and 2-bedroom + bath "kids' wing."  She's opened walls from the kitchen to the living and dining rooms creating a massive open floor plan and refinished all the original hardwood floors.  After seeing her beautifully furnished space and hearing her listing everything she's done to get her house the way it looks today, I had so many exciting ideas to help her add the finishing touches she was needing and to give her the look she was going for.
Referencing her inspiration pics saved to Houzz and Pinterest, the first item on the list was to add window treatments.  These were presented in a soft, crisp white fabric which maintains the brightness for each room, diffusing the sunlight throughout, keeping each space light and airy.  The simple functional panels give her the privacy she wanted from all the passersby walking the park, which are lined to help regulate the temperature differences she needed.  The hardware for these panels is something to mention –simple, modern, matte black rods and brackets, highlighted with acrylic finials and gold rings.  This combination is an exclamation point showcasing what custom window treatments can really do for a room.  The main dining room window boasts a striking contrast of rich black wide leather tape, drawing your eye right to the beautiful picture window, which in and of itself is a perfect accent to this space.
From there, adding the right wall hangings and artwork, task lighting, accessories, and accents layered throughout, mixing lots of textures, metal finishes, and varying shades of color synchronizes one room to the next buttoning up the entire design concept she was striving to achieve.
This client was absolutely thrilled with her finished home, finally giving her a much-needed break to all the commotion from the day they've moved in.  Now she and her family can relax and enjoy their new home – one they can definitely call their own!
… MLC
The following two tabs change content below.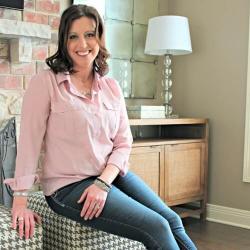 My entire adult life I've been passionate about all things interior design. After receiving my degree in Interior Design with an emphasis in Architectural Design, I have worked in Visual Merchandising, Residential Design and in Commercial Design for a national retailer; my heart is and always has been in any design position that allows me to provide my clients with the utmost stylized space for their taste and function. It has been my pledge for over 12 years to create new spaces by fulfilling the parameters set by the client while communicating openly and working together, to use the most current techniques and strategies to propose innovative designs, and to develop and install new environments with creativity, knowledge and excellence. Nothing makes me happier than to see a client swoon over their re-decorated, remodeled, or renovated area.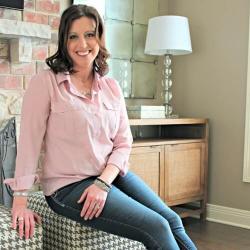 Latest posts by Melanie Christoff (see all)