Gateway180 is a proud partner of Cure Design Group. We have worked with Cure Design and Sara over the years for our annual gala. Not only do they do exemplary work but they go above and beyond to support the mission of our organization. Attention to our event goals, compassion for our clients, and creative design make Cure Design Group our event decor partner of choice. Year after year we receive rave reviews from our guests on how amazing our event looks and that is all thanks to Sara and Cure Design. Thank you!
Cori of Cure Design Group and Poynter Landscape Architectures Bob Wilhelm, worked together on a project that involved updating and redesigning an outdoor living space. She was a pleasure to work with made sure that the design and materials we were using were consistant with what the interior of the house. With Cory it was a smooth process to collaborate on a project together again. We plan to be working together again on a project later this year with a client of ours and look forward to the professionalism she brings.
Dear Cure Design Group, Megan and Sara, Thank you for decorating our facility for the holiday season!  It was exactly what our residents needed!  They were astounded to go to bed and wake up with Christmas!  Thank you for working so hard after hours and making it spectacular, beyond our expectations!  We could have never had done it without your help and vision!  Thank YOU!
OFallon, MO
I worked with Cori at Cure Design Group on a number of different rooms and absolutely loved her! She's creative, quickly got a feel for what I was looking for and found pieces that I love. She's also price conscious and works to stay within your budget. I would highly recommend her and would definitely work with her again.
We hired Cure Design Group for a large project, and they did a smaller job for one of our neighbors. I can only speak for our own experience, but I do know they were extremely happy as well. Our Project: We had just moved here from Chicago, and had used a designer on our Chicago home, so we were nervous that we wouldn't find anyone, that we liked just as much, when we begain the process all over again here in STL. We are so glad we found them on Google.com, because they were everything we could have hoped for. We received a clear plan, pricing and proposals for the work from their subcontractors and found it reasonable compared to other bids we had gotten (just to be sure) We re-did many parts of our main floor, specifically our kitchen, living room and dining room. We wanted an entirely new modern look and feel, because it was older and dated. THANKS CURE DESIGN GROUP!
Positive: Punctuality, Quality, Responsiveness, Value
Everything about Cure Design group is exceptional especially their key designer Cori Dyer! She was essential in my kitchen and back bar renovation. Everything from the design, color and the way she stayed on top of the contractor to have it all come together with minimal disruptions. I would highly recommend her to anyone with a any kind of home project!!
I can not say enough about Sara and Megan!!!!! Here is what I wrote. I hope it helps you.
"!!!!!GENIUS!!!!!" is the best way to describe Sara, Megan, and their team. I will never ever forget the feeling I had when I entered my house that night after Sara and Megan had designed it. I dropped everything in shock and slowly walked in amazement through my fabulous new home. Every turn revealed something more extraordinary, creative, special and genius!!! They have an amazing talent, as they read my mind on things. Sometimes I'm demanding and everything they did is 100% what I wanted, but didn't know how to do. I told Sara I loved "Anthropologie" and now I'm living in an Anthropologie catalogue. These are superwomen! And it's true – their teams' one goal is to make you happy. 🙂 I can't thank them enough. 🙂 Thank you Sara and Megan!
I had a great experience working with Cori from Cure design! She was professional, creative, and respectful of my budget. The big project was taking an unfinished basement and turning it into a livable space my whole family could enjoy. Our basement is now absolutely beautiful! Cori also did our main floor powder room, which is now like a little jewel box! I just love it! I would absolutely use Coribanf Cure for our next design project!
Dear Cure Design Group – Sara, I have spent a lot of time renovating my home and wanted to send you a thank you for all of your hard work you did in pulling everything together.  It is beyond my expectations and what I had envisioned.  As you know, I work from home and I'm so happy to be surrounded by such beautiful things every day.  Thank you-the transformation is truly amazing!
Ladue, MO
We have used the Cure Design Group for both personal residence design work and most recently for our retail store. The Cure Design team was amazing because they listened to our vision and needs, added to it based on their experience and judgement and created a masterpiece. They were hands-on with implementation and set-up to make sure everything was perfect. Everyone who comes into our store raves about the look and feel. It has given us a real competitive advantage!
REVIEWS / TESTIMONIALS
The following two tabs change content below.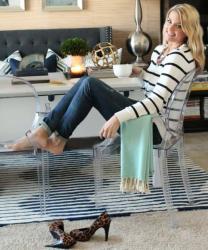 Wow time flies!! 12 YEARS!! My team and I are so thankful and grateful to all of our clients, industry partners, family, friends and fans. Cure Design Group has been like living a dream…a dream that was developed to live out my passion and inspiration through my own firm. Creating a way for designers to be creative and supported, a way for me to raise my girls and have work/life balance. I think this is something every Boss Babe wants right? Prior to CDG's inception, I had spent 10+ years in upper management of the Fashion and Interior Design Industry. With a passion in marketing, merchandising and design, my diverse background led me into designing and creating this Interior Design Firm. With my education and experience in the industry, I am able to support my design staff and you as the client through the design and special order process to ensure the best possible experience. I am passionate about my people, my team and our clients. It is my personal mission to provide a fun and interactive environment and I will do my best to uphold your personal standards for excellence.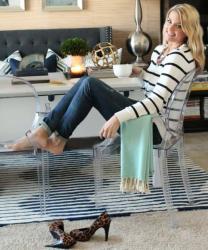 Latest posts by Sara Luigs (see all)