Dear  Cure Design Group-Bri and Sara, WE LOVE IT!!  I Love it!!  Staff Loves it! Well, I'm glad I hired the pro's and know why I didn't do it myself.  I couldn't have done it myself.  Everything turned out better than I imagined.  We were just standing out front for 30 minutes looking at everything and "admiring" it.  A lady was in yesterday with her daughter, and had to come back today and thought she walked into the wrong place!!  Our clients will undoubtedly fall in love with being sick now… Thanks again for all of your hard work and staying overnight to install everything so we could open for business on time the next day!
St Louis, MO
Dear Cure Design Group, Megan and Sara, Thank you for decorating our facility for the holiday season!  It was exactly what our residents needed!  They were astounded to go to bed and wake up with Christmas!  Thank you for working so hard after hours and making it spectacular, beyond our expectations!  We could have never had done it without your help and vision!  Thank YOU!
OFallon, MO
Dear  Cure Design Group, Bri and Sara, WOW, what can I say?  Your dedication. love and concern for homeless woman and children in St Louis was evident  in everything you did to support our Inaugural Open Your Heart for the Homeless event!  I am writing to say "thanks" for your generosity in donating a design package for our "Creatively Yours" live auction item.  You two are truly something special.  Thanks for all the time and talent you so freely gave to help us empower women and children experiencing homelessness.   I hope we can work together on Open Your Heart for the Homeless 2011, 2012, and forever!!
St Louis, MO
Dear Cure Design Group – Sara, When we first decided to begin designing the home we had lived in for two years, we never expected to love the finished product so much!  We use rooms we never used to walk into.  The boys enjoy lounging in the great room now instead of being in their own rooms.  We have gained family time and love our new home.  Thank you so much and can't wait to have you come back for the Master Suite!
Chesterfield, MO
Dear  Cure Design Group – Cori and Sara, Thank you so much for the lovely job you did on my house.  It is absolutely gorgeous!  I am so honored to have gotten to work with Cori.  She really spent quality time with me and on my projects.  Thanks Sara for giving her suggestions and fine tuning everything along the way.  You both are a dynamic duo!  I really hope I may get to do my bedroom this winter so I would be honored if you could work with me again, Thank you!
St Louis, MO
Dear Cure Design Group, Sara from the moment I met you, I knew I could work with you-you have a way of putting people at ease and making them feel special.  Your enthusiasm made me feel that decorating my house would be an adventure.  I was suddenly excited about it!  And there were so many beautiful things to choose from.  Then came all your hard work and dedication to my project-unbelievable!  And the finished product was worth all your efforts.  It is exquisite and so true to my style!  You had made mental notes of everything we had discussed and surprised me with them.  We want to thank you so much for our beautiful rooms-we feel like we are in France!
Chesterfield, MO
Dear  Cure Design Group, Bri and Sara..  Just wanted to take a moment and Thank you again for the hard work you did on our store!  Every day, we walk in the door and are thrilled!  The colors and everything you chose was exactly what we had envisioned for our new space.  Our clients feel relaxed and tell us "they can't wait to come back, its a great atmosphere here" The staff and everyone that comes in love it!  Thank you again, can't wait to expand and have Cure help us again!
Lake St Louis, MO
Dear Cure Design Group – Sara, I have spent a lot of time renovating my home and wanted to send you a thank you for all of your hard work you did in pulling everything together.  It is beyond my expectations and what I had envisioned.  As you know, I work from home and I'm so happy to be surrounded by such beautiful things every day.  Thank you-the transformation is truly amazing!
Ladue, MO
Dear  Cure Design Group- Sara, I Wish you could have been here to hear my husband's comments. He loves everything and like me cannot get over how great the breakfast area turned out with just some new paint and the window treatments. He thought the great room truly looks GREAT now and said to tell you thanks for a job well done. He said "That Sara sure knows her stuff!" Ha! The kids also thinks everything looks great. My son said he could tell how much I liked everything because my eyes were so lit up as I showed them around! Thank you so much again!  Can't wait until our next project!
Bloomsdale, MO
Dear Cure Design Group, Cori and Sara, I just wanted to thank the two of you again.  What you did was incredible!  My wife is SOOOOOOO happy.  It was a great surprise and again she honestly couldn't be happier.  I am sooooooo happy that I clicked that link that popped up on Google last fall and gave Cure Design Group a call.  Everything the two of you have done, and how the entire process has worked, all the way up to the "reveal", which not  only involved the two of you, but also Sara's assistants, what nice people. Just wanted to tell you all thank you again!
OFallon, MO
TESTIMONIALS
The following two tabs change content below.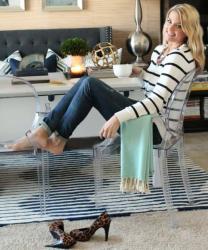 Wow time flies!! 10 YEARS!! My team and I are so thankful and grateful to all of our clients, industry partners, family, friends and fans. Cure Design Group has been like living a dream…a dream that was developed to live out my passion and inspiration through my own firm. Creating a way for designers to be creative and supported, a way for me to raise my girls and have work/life balance. I think this is something every Boss Babe wants right? Prior to CDG's inception, I had spent 10+ years in upper management of the Fashion and Interior Design Industry. With a passion in marketing, merchandising and design, my diverse background led me into designing and creating this Interior Design Firm. With my education and experience in the industry, I am able to support my design staff and you as the client through the design and special order process to ensure the best possible experience. I am passionate about my people, my team and our clients. It is my personal mission to provide a fun and interactive environment and I will do my best to uphold your personal standards for excellence.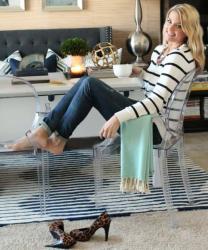 Latest posts by Sara Luigs (see all)