My team and I have worked with CURE on multiple design and remodeling projects. As professional in the industry, I must say, their creative vision, attention to detail, responsiveness and follow through make CURE Design Group quite the pleasure to work with. I would recommend them to a friend or family in a heartbeat =]
Cure Design group — what can I say? They're everything a local business should be and more! On my second day as development director for the largest homeless shelter for women and children, I called them (cold, just out of the phone book) to as for support. Originally I was looking for volunteer designers to make the Open Your Heart for the Homeless (fundraising gala) a beautiful affair. They were with me for four years in that capacity, but they've done so much more! Not only are all of our gala events a cut above the rest, they come to the shelter to do art with our kids. As if that isn't enough… Bri, Sara, Megan, and Cory worked together to renovate the shelters entry way for the clients we serve. This was a huge undertaking that completely transformed the 90 year-old building where emergency shelter is offered. They created a warm, inviting space for families experiencing homelessness. If they can do all this in a shelter, just imagine what they can do for you. You want to hire good people to come into your home, right? These are your people! I promise!
Dear Cure Design Group – Sara, I have spent a lot of time renovating my home and wanted to send you a thank you for all of your hard work you did in pulling everything together.  It is beyond my expectations and what I had envisioned.  As you know, I work from home and I'm so happy to be surrounded by such beautiful things every day.  Thank you-the transformation is truly amazing!
Ladue, MO
Gateway180 is a proud partner of Cure Design Group. We have worked with Cure Design and Sara over the years for our annual gala. Not only do they do exemplary work but they go above and beyond to support the mission of our organization. Attention to our event goals, compassion for our clients, and creative design make Cure Design Group our event decor partner of choice. Year after year we receive rave reviews from our guests on how amazing our event looks and that is all thanks to Sara and Cure Design. Thank you!
Awesome! Great interior designer. Our kitchen looks great!
Dear  Cure Design Group, Bri and Sara, WOW, what can I say?  Your dedication. love and concern for homeless woman and children in St Louis was evident  in everything you did to support our Inaugural Open Your Heart for the Homeless event!  I am writing to say "thanks" for your generosity in donating a design package for our "Creatively Yours" live auction item.  You two are truly something special.  Thanks for all the time and talent you so freely gave to help us empower women and children experiencing homelessness.   I hope we can work together on Open Your Heart for the Homeless 2011, 2012, and forever!!
St Louis, MO
We have used the Cure Design Group for both personal residence design work and most recently for our retail store. The Cure Design team was amazing because they listened to our vision and needs, added to it based on their experience and judgement and created a masterpiece. They were hands-on with implementation and set-up to make sure everything was perfect. Everyone who comes into our store raves about the look and feel. It has given us a real competitive advantage!
I have worked with Cure Design Group and designer Cori Dyer several times over the past few years. I have never been disappointed, whether a small tweak or an all out redo, the same attention to detail was provided. They provided several options and always tried to present a better or best choice and guide me as to where my money made the most impact! I will definitely be calling them again!
We had a fantastic experience with Cure. We moved to St. Louis recently and hired Cori to help us furnish / decorate our entire house. We could not be happier with the results! Cori knew exactly what pieces would suit us, and she created living spaces that we absolutely love. She is a genius with color and was amazing at incorporating some difficult pieces we already had. She went above and beyond at every turn, even stepping in to save the day during a crisis (a burst pipe and lots of flooding!) We feel so lucky we got to work with Cori and Sara. Thank you!
It was truly a pleasure working with Sara, Melanie and Sydney. They designed a living room perfect for our family! The colors, the lighting, the fabrics…everything was beautiful. I smile every time I walk past the room. I loved all of Melanie's ideas and look forward to working with them again in the future!
REVIEWS / TESTIMONIALS
The following two tabs change content below.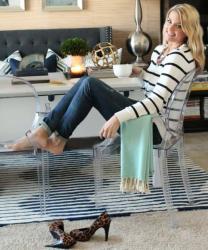 Wow time flies!! 12 YEARS!! My team and I are so thankful and grateful to all of our clients, industry partners, family, friends and fans. Cure Design Group has been like living a dream…a dream that was developed to live out my passion and inspiration through my own firm. Creating a way for designers to be creative and supported, a way for me to raise my girls and have work/life balance. I think this is something every Boss Babe wants right? Prior to CDG's inception, I had spent 10+ years in upper management of the Fashion and Interior Design Industry. With a passion in marketing, merchandising and design, my diverse background led me into designing and creating this Interior Design Firm. With my education and experience in the industry, I am able to support my design staff and you as the client through the design and special order process to ensure the best possible experience. I am passionate about my people, my team and our clients. It is my personal mission to provide a fun and interactive environment and I will do my best to uphold your personal standards for excellence.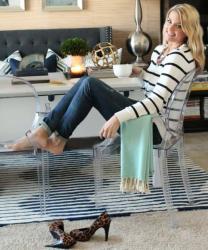 Latest posts by Sara Luigs (see all)