Full Service Interior Design….what does that mean and how does it work?
That means, in short, that we handle everything, from concept to completion!  We want this to be an enjoyable process for you.  From establishing the Scope of Work to the last accessory is placed.  Our Full Service Interior Design Package includes a full design plan, presentation, product research, ordering, scheduling, and the most exciting part, installation and styling. Projects may be phased into a room at a time or a group of rooms at a time, depending on your preference!
Our Process:
We begin with an on-site complimentary consultation, usually takes about 45 minutes to an hour to complete. This serves as our discovery appointment, no design work happens at this point, however, its advantageous for everyone in that we can meet each other, and we can lay our eyes on the project, get a 360 degree perspective of your objectives and we can determine the Scope of Work.  We will discuss any inspiration photos you may have, determine your wants, needs, priorities, time frame and your budget. 
Budget is particularly important.  We have relationships with hundreds of vendors, both locally and to-the-trade-only.  Varying in quality and price point, determining your budget for a project will help us in deciding what vendors to research…we want to spend the time you are paying for in the right place [if that makes sense]  Even if it is a range or what we call a "point of pain"… doesn't mean we will spend every penny of that, but it does help for research and setting expectations.   What if you don't know your budget?  You're not alone…we can help you navigate this process.  Basically, we would make a quick checklist for your room, and determine large needs and apply a mid-range price point associated with each general selection, then we add those up.  This would be a general assessment to determine your budget.  If you are comfortable with this base line, then we can set this as our guide.  If not, then we may need to re-evaluate.
Post consultation: We will prepare and present you with a Project Summary.  This is basically our bullet pointed list of the Objectives and our 'take away' from our time together.  This is what we base our estimate of Design time so its important that we capture the Scope of Work accurately.
Hourly Design Contract: We will prepare and present you with our estimation of our Design + Research time on our Hourly Design Contract.  This outlines our role + responsibilities, payment terms and terms and conditions.
Design Process: Once we receive your signed Contract + 50% deposit, the fun begins!!  Our designers will schedule a on-site measure.  Measuring + photos will help our designers in the accuracy of their plan.  Research + Design development is the most essential part of the Design process and most of our time is spent during this phase. We typically begin with a Layout/to-scale space plan.  Have you ever purchased a piece of furniture and gotten it home and it was either too small or too big??!  Yea, you are not alone.   The Layout is a crucial part of the design and why a lot of our clients hire us…to alleviate costly mistakes.  We will start with the 'as-is' perimeter plan and then are able to build and adjust our selections based on the size and scale of the pieces in your space.
Digital Design Board: From the layout to the mood board, layered perspective renderings of your space to help you visualize the design, to each selection, furniture, area rugs, artwork, fabrics, finishes, window treatment designs and any and all details.  This personalized digital design board is created for each space when applicable per your project.  This is where you get a glimpse inside the 'Designer's mind'  an organized chaotic place where the magic happens.
Ordering, tracking + delivery coordination:  We will procure all Cure Design Group presented items from our Product + Materials Contract.  All items are sent to our local receiver.  They receive, assemble, inspect and house all of your items safely until we are ready for our delivery.  If an item does arrive damaged, we will go through that process to get a new item.  You don't have to do a thing!
Delivery, Installation + Styling: We handle everything!!  We will schedule our delivery + installation day, we request, if possible that you are not home that day.  Make yourself scarce.  Get a massage, go to work, lunch with friends.  Installs typically take several hours.  We will shop locally for accessories, art or anything additional we feel the space needs for final styling.   We want this 'Big Reveal' to be beyond your expectations, which is why we ask that you don't watch the space take shape.  Any 'out of contract' items that are placed during installation that you wish to keep, will be calculated and added to your final invoice.
Wrap Up + Review:  We can only hope that your experience with us was exceptional.  We always want our clients happy and to love their spaces long after the design process is complete.  One of our greatest compliments is when we receive an inquiry based on a client referral.   We greatly appreciate it when a client takes a minute to write a review for us.  Our business is very important to us.  We are entering our 12th year!  You can read some of our client reviews here!
We would appreciate the opportunity to consult with you on any project: (large / small , residential / commercial).  Please feel free to call or email us to discuss your project!  You can learn about our e-design services here!
The following two tabs change content below.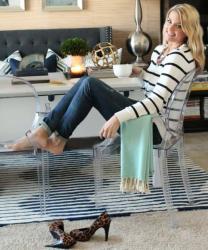 Wow time flies!! 12 YEARS!! My team and I are so thankful and grateful to all of our clients, industry partners, family, friends and fans. Cure Design Group has been like living a dream…a dream that was developed to live out my passion and inspiration through my own firm. Creating a way for designers to be creative and supported, a way for me to raise my girls and have work/life balance. I think this is something every Boss Babe wants right? Prior to CDG's inception, I had spent 10+ years in upper management of the Fashion and Interior Design Industry. With a passion in marketing, merchandising and design, my diverse background led me into designing and creating this Interior Design Firm. With my education and experience in the industry, I am able to support my design staff and you as the client through the design and special order process to ensure the best possible experience. I am passionate about my people, my team and our clients. It is my personal mission to provide a fun and interactive environment and I will do my best to uphold your personal standards for excellence.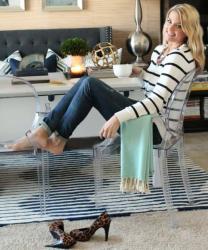 Latest posts by Sara Luigs (see all)