LADUE LOWER LEVEL // SOPHISTICATED SPACE FOR KIDS AND ADULTS // RUSTIC
CONTEMPORARY DESIGN WITHIN ORGANIC MODERNISM
Referrals are the best form of flattery – where someone can indirectly compliment you on a job well done, so well done that they excite someone else enough to reach out and ask for the same 'rescue' their friend experienced. That's exactly what happened in this case, and my heart was all aflutter. My client called me, mentioning the work I was doing for her Aunt and I could not have been happier to help.
However, this project began with complications. She wanted to finish the basement of her home in Ladue but needed several things fixed before we could even think of making it pretty.  The previous homeowner laid flooring over raised tiles to let water run beneath it and down two  different drains. Obviously, the basement had water issues and instead of repairing them, the previous owner just let the water run right under their feet [I know, "what in the world," right?!]  After working closely with the homeowner and the contractor to address all the issues, we could start designing!
She wanted a space her kids could take full advantage of, while keeping it mature and sophisticated enough for entertaining grown ups. The materials had to be durable and maintenance-free, but also beautifully designed. We first worked on the wall placement and addressed all the little 'quirks' an old basement typically displays. We then focused on concealing all the necessary [but ugly] pipes, poles, and ducting, and relocating and adding electrical to make this space as functional for this decade as it can possibly be. Once the shell was where we needed it to be, we found the finishes to create the perfect canvas for our design concept. We selected LVP for the flooring in a soft greige because of its indestructible composition, my favorite white wall paint with black accents on the stairs to create a dramatic contrast and highlight some of the beautiful characteristics respective of an older home. The recessed can lighting throughout using day-light bulbs makes the lower level not feel so dungeon-y while keeping the ceiling height as high and tight as it can be to the joists for the floor above. Accents of neutral-navy compliment these finishes at the stairs on the geometric-woven runner and the show-stopping backsplash above the beverage counter.
Creating different "zones" in a large, open plan is crucial to effectively designing a functional space. We located the fitness zone at the far end of the room, out of the way and opposite where the kids will mainly be playing. This is adjacent to the media zone where the TV is still visible from the treadmill and where the whole family can sit back and have their popcorn while watching movies. This space also includes a swivel chair and two ottoman poufs for in-your-face gaming and full circle board games. Opposite the stairs is the perfect location for a foosball table, bumper pool, dart board, and small arcades. The backdrop to this -literally boasts- a beverage counter perfectly designed for all ages. Finally, tucking away a powder room behind the stairs perfectly completes the circle of fun any kiddo could wish for in a lower level.
Selecting the right furniture, accessories, and materials is what brings this basement to the next level. The oversized sofa sectional in a deep but casual navy compliments the painted cement tile backsplash, balancing these accents on both sides of the stairs that divide them. Fun, organically-shaped mirrors framed in gold climb the wall next to the TV, reflecting light and making the room feel larger than it is. The acrylic cocktail table visually bears no impact in space planning but is the perfect compliment to other materials we used and allows the super- fun black and white knitted ottomans to be tucked underneath. The simple natural wood end tables on black metal hairpin legs incorporate a bit of drawer-storage, and placing two beautiful metal orb-shade floor lamps behind [not on] each table allows for the full surface to be used. All the attention goes to the complimenting media console with live-edge solid French white oak doors [the black reveal in-between is how to open the doors!!] giving this space the perfect hint of rustic contemporary within organic modernism.
My client is so thrilled she was sent our way, she couldn't be happier with how her space turned out – she's already sent photos of her kids enjoying every aspect we put together. And of course, we LOVE that she loves it!
More to come! … MLC
The following two tabs change content below.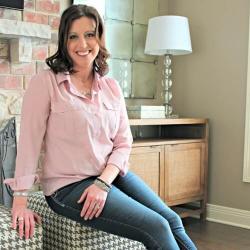 My entire adult life I've been passionate about all things interior design. After receiving my degree in Interior Design with an emphasis in Architectural Design, I have worked in Visual Merchandising, Residential Design and in Commercial Design for a national retailer; my heart is and always has been in any design position that allows me to provide my clients with the utmost stylized space for their taste and function. It has been my pledge for over 12 years to create new spaces by fulfilling the parameters set by the client while communicating openly and working together, to use the most current techniques and strategies to propose innovative designs, and to develop and install new environments with creativity, knowledge and excellence. Nothing makes me happier than to see a client swoon over their re-decorated, remodeled, or renovated area.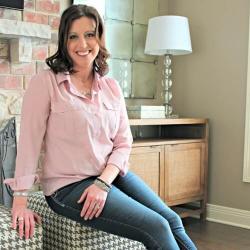 Latest posts by Melanie Christoff (see all)