The Best Furniture Investments You Can Make in Your Home
Author // Elizabeth Nations, CURE Design Assistant
We all know how difficult it can be to dig into our pockets and shell out a pile of money when trying to furnish our homes. Furnishing a home can be challenging when we have an urge to just purchase pieces to quickly fill the space. We urge you to not to rush to the nearest big box store to try to furnish your home in one ill thought out pass.
         Even as designers we know how challenging it is to pace ourselves when selecting pieces for our clients. Through patience and practice we have learned that investing more money into fewer pieces will produce a more thought out and sustainable design. It is much safer to invest your money into quality pieces rather than on generic items that will fall apart or go out of style sooner than later.
         When shopping for furnishings it is important that you love each piece you bring home. So often we buy something because it is available and will fill the space quickly. Taking time to source pieces that you love and will continue to love years from now is crucial.
All of that being said, it is almost impossible to furnish and completely decorate a space with investment pieces in one day. To help you out, we have put together a list of pieces where you should invest your money to get the most out of your space.
Your sofa will be one of the most used pieces of furniture in your home. When It comes to selecting a sofa, be sure to buy the most well-made sofa for your budget. We suggest one that has easy to clean fabric or leather in a neutral or solid fabric. You want to avoid prints that will go out of style in a few years since you will be investing a good chunk of change for this piece.
Want to see more shots of this Cure Project?  Click here!
RUGS
Just like your sofa, area rugs are used in your home every single day. Think of your rug as the foundation for any room and everything you place with it only elevates the look and feel of the space. We love using large rugs with abstract patterns to give the room a more luxurious and personal touch. Make sure to invest in a rug that is durable and easy to clean to keep up with your lifestyle.  Source
DINING TABLE

Now more than ever people are beginning to use their formal dining rooms for more than just dining. Dining tables are being used for home offices, art studios, homework stations, and so many other ways that these spaces were not originally intended. That being said, your dining table has become one of the most crucially functional pieces of furniture in your home. This is why when you are shopping for a dining table it is always recommended that you invest in one that is going to hold up with your ever-changing lifestyle while also accentuating your personal style.  Want to see more shots of this Cure Project?  Click here!
ART
Like rugs, art can bring so much personality into any space and can be one of the best investments in your home. When selecting art for your home it is best to fight the urge to run to the nearest home goods store and buy the first piece of mass-produced art you find. Instead, we suggest building up an art collection that is unique and that will bring life and style into your home. One of a kind art pieces can make any generic room feel elevated and personal. We recommend buying smaller pieces that coordinate together or invest in a larger statement piece.  Source 
LIGHTING
Lighting is such an important feature in your home. It is an element of design that if often overlooked by most people who are trying to quickly put together a new space. Each room in your home should have multiple sources of light including table lamps, floor lamps, sconces, and ceiling fixtures. Lighting fixtures are something you will use every day, so it makes sense to invest in fixtures that are equally as stylish and bold as they are functional.  Source
The following two tabs change content below.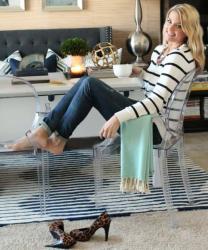 Wow time flies!! 12 YEARS!! My team and I are so thankful and grateful to all of our clients, industry partners, family, friends and fans. Cure Design Group has been like living a dream…a dream that was developed to live out my passion and inspiration through my own firm. Creating a way for designers to be creative and supported, a way for me to raise my girls and have work/life balance. I think this is something every Boss Babe wants right? Prior to CDG's inception, I had spent 10+ years in upper management of the Fashion and Interior Design Industry. With a passion in marketing, merchandising and design, my diverse background led me into designing and creating this Interior Design Firm. With my education and experience in the industry, I am able to support my design staff and you as the client through the design and special order process to ensure the best possible experience. I am passionate about my people, my team and our clients. It is my personal mission to provide a fun and interactive environment and I will do my best to uphold your personal standards for excellence.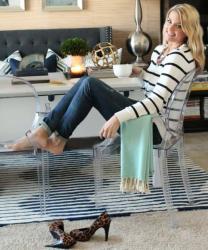 Latest posts by Sara Luigs (see all)