"Behind the Scenes of Interior Design"
"Interior Design is just picking out paint colors and pretty throw pillows right? I've seen enough HGTV episodes, I'm pretty sure I could do that."
Here are a few images of some of our design team "behind the scenes"
This is something every single interior designer has heard at one point in their career. Everyone seems to assume that what they see on TV or online is exactly what happens. Believe it or not, those 25 minute episodes where a space goes from complete bare bones to a perfectly designed room down to every single detail does not happen in 25 minutes. What most people don't know is the months of
planning that go into every space. What TV doesn't show is the multiple client consultations, driving from showroom to showroom with a completely packed car, and changing your shoes multiple times a day to find the perfect finish or furniture piece. TV will never show you the hours that designers sit obsessing over little details in our architectural drawing programs to make sure that every square inch is perfectly correct so that a space can be just as functional as it is beautiful.
Social media often portrays only two steps from the design process, the beginning and the very end. While everyone loves a beautiful before and after shot they never tell the whole story. The design process starts with the initial meetings where excitement runs through
the minds of both the designer and the client. During this phase the designer will explore different ideas and design solutions to meet their specific clients needs. Once all of this is established then comes the work. Countless space plans, dozens of different material boards, rough sketches on papers and napkins scattered everywhere. After this incredibly creative and fun process comes the waiting. This is part of the process that almost no one likes to talk about. The waiting entails furniture in fabric quotes, proposals to clients, numerous order forms and waiting for deliveries to arrive. This part of the process is not something that is talked about in design school and it's something that every designer learns as soon as they get out into the world. The creative mind of a designer never looks forward to sitting and doing paperwork but it's completely necessary to make the designs in each designer's head come to life. 
Finally, after all of the field measuring, computer-generated drawings, 3-D renderings, furniture presentations, driving to and from the site a dozen times, stressing over every single detail making sure it's exactly as you and the client imagined, the furniture arrives. Designers are always eager to get into the warehouse and unwrap all of the furniture to make sure everything is exactly as ordered and completely undamaged. When everything is deemed perfect, the client gets the call and the install date is set. 
Here comes the part that everybody loves to watch on TV. When the huge truck pulls up to the residence and beautiful furniture piece after lamp after area rug is carried in and thoughtfully placed in the newly created space. This day is the most stressful and also the most rewarding of the entire process. The reaction of a client makes all of the stress filled hours, muddy boots from being on the construction site, and meticulous planning all completely worth it. 
The next time you're watching HGTV and you think "I could definitely do that",  remember the hours of planning that goes into each selection and countless hours styling each space as if it came out of a magazine, a very livable and functional magazine.  
Interior Design is a career of passion and not everybody has what it takes, and that's OK!  That is why we strive to be the best we can, work with each client, transforming space after space, because we LOVE what we do!
Cheers to the entire design process!
Author:
Elizabeth Nations // Cure Design Assistant
The following two tabs change content below.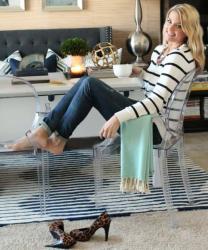 Wow time flies!! 12 YEARS!! My team and I are so thankful and grateful to all of our clients, industry partners, family, friends and fans. Cure Design Group has been like living a dream…a dream that was developed to live out my passion and inspiration through my own firm. Creating a way for designers to be creative and supported, a way for me to raise my girls and have work/life balance. I think this is something every Boss Babe wants right? Prior to CDG's inception, I had spent 10+ years in upper management of the Fashion and Interior Design Industry. With a passion in marketing, merchandising and design, my diverse background led me into designing and creating this Interior Design Firm. With my education and experience in the industry, I am able to support my design staff and you as the client through the design and special order process to ensure the best possible experience. I am passionate about my people, my team and our clients. It is my personal mission to provide a fun and interactive environment and I will do my best to uphold your personal standards for excellence.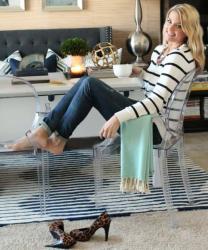 Latest posts by Sara Luigs (see all)