What is the difference between a Decorator and a Designer? // An educated perspective
In the field of interior design, many people tend to assume our job is just "decorating." While decorating is a part of the process, it is only a fraction of what actually goes into fully designing a space. When I chose this as my career path, I noticed mixed reactions. Some people thought it was awesome and sounded like such a fun job and others thinking it didn't sound much like a career that needed schooling for. I would get a lot of comments like "You should come and decorate my house," when in reality they are confusing the title designer vs. decorator. 
Designers have to consider codes and regulations that have to be met, read building plans, consider locations, etc. Designers tend to work with the architects and contractors, where as the decorators usually come in after all the structural work is completed. We make sure that we take in everything a client says and make sure to create a space that reflects their personal style. Designers know how to design a space from the ground up, keeping in mind functionality as well as aesthetic, where as decorators embellish existing spaces. Form follows function should be every designer's motto. A space needs to be practical and useful before it can be beautiful. 
Many states and provinces require certain credentials to be considered a professional designer. Interior designers usually have a degree in Interior Design as well as internship experience. Becoming an interior designer requires training such as studying color theory and fabrics, learning computer design programs, drawing, furniture design, space planning, etc. Depending on what a client is looking for, there are pros and cons to both. Basically what it comes down to is an Interior Designer can decorate but an Interior Decorator can not design. 
What is your perspective on the weighted subject?  Do you think there is a difference between a Decorator and an Interior Designer?
If you need help on your next project whether you need a completely styled space or a fully designed space, we are here to bring your vision to life!
[Pictured: Senior Designer Melanie Christoff styling one of her favorite projects]
[About the author]:    Our sweet Sydney comes to us as a new Graduate from Stevens Institute of Business + Arts [SIBA] she is our newest addition to our design team as a Design Assistant.   We are happy to have her join our team and are excited to see where her career path takes her.
The following two tabs change content below.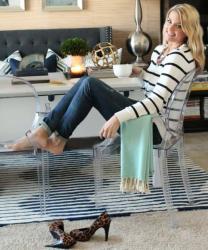 Wow time flies!! 12 YEARS!! My team and I are so thankful and grateful to all of our clients, industry partners, family, friends and fans. Cure Design Group has been like living a dream…a dream that was developed to live out my passion and inspiration through my own firm. Creating a way for designers to be creative and supported, a way for me to raise my girls and have work/life balance. I think this is something every Boss Babe wants right? Prior to CDG's inception, I had spent 10+ years in upper management of the Fashion and Interior Design Industry. With a passion in marketing, merchandising and design, my diverse background led me into designing and creating this Interior Design Firm. With my education and experience in the industry, I am able to support my design staff and you as the client through the design and special order process to ensure the best possible experience. I am passionate about my people, my team and our clients. It is my personal mission to provide a fun and interactive environment and I will do my best to uphold your personal standards for excellence.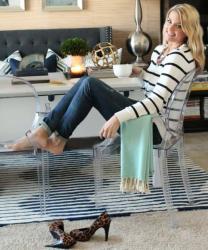 Latest posts by Sara Luigs (see all)