We all know the term Mason Jar – we use them to can our garden goodies, drink from them at our outdoor events, spruce up our dining table, and the list goes on. I've especially noticed them the past few years as an essential piece for those rustic weddings! I personally love them and their history!
The term Mason jar was actually acquired when John L. Mason of New York City invented the glass container with a thread molded into its top and zinc lid with a rubber ring. The rubber created the seal, and the threaded lid maintained it. The jar included his patent: "Mason's Patent November 30th. 1858."
The ease of use and affordability of Mason jars helped home canning spread across the nation! The practical use of this invention was a benefit to farmers, homesteaders, settlers and urban families, who began family traditions of canning sauces, pickles, relishes, fruit and tomatoes. Mason eventually sold his rights to the jar to several different people.
You may recognize the name William Charles Ball. Somewhere around 1886 the Balls began mass producing and distributing jars across the country and quickly became the leaders in the industry. Shortly after this Alexander H. Kerr founded the first wide-mouth jars, which Ball was quick to duplicate. Mason, Ball, Atlas and Kerr will be the most common names you will find on them today. Although the Alltrista Corporation is still manufacturing the Ball glass canning jars, Kerr, Bernardin and Golden Harvest canning jars – the most unique finds are the Antique Jars!
The great majority of these jars, and my personal favorite, were made in aqua or "Ball Blue" colored glass. Usually the jars are marked on the bottom with a mold number ranging between 0 and 15.
It is said though that the number 13 is the most valuable today because back in those days superstitious people were afraid to can in them, so they broke them or simply threw them away. The same is said about Moonshine Runners using Mason Jars. They too were superstitious and believed the number 13 would increase their risk of getting caught by the law. I however am not superstitious and thrilled to have stumbled across one with 13 on the bottom!! 13 just happens to be a pretty special number for me!
Of course – there are so many uses for them out there that are just as great! Here are a few of my favorites!
The following two tabs change content below.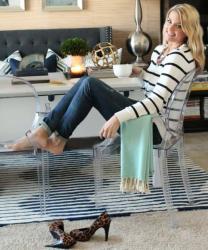 Wow time flies!! 12 YEARS!! My team and I are so thankful and grateful to all of our clients, industry partners, family, friends and fans. Cure Design Group has been like living a dream…a dream that was developed to live out my passion and inspiration through my own firm. Creating a way for designers to be creative and supported, a way for me to raise my girls and have work/life balance. I think this is something every Boss Babe wants right? Prior to CDG's inception, I had spent 10+ years in upper management of the Fashion and Interior Design Industry. With a passion in marketing, merchandising and design, my diverse background led me into designing and creating this Interior Design Firm. With my education and experience in the industry, I am able to support my design staff and you as the client through the design and special order process to ensure the best possible experience. I am passionate about my people, my team and our clients. It is my personal mission to provide a fun and interactive environment and I will do my best to uphold your personal standards for excellence.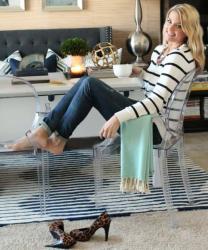 Latest posts by Sara Luigs (see all)