LIVENED UP LIVING + DINING // RETIRED BUT FAR FROM TIRED
When I got the assignment for this client, I was ecstatic to read in the forwarded email message, "Looking at your gallery and blog and on Houzz, I like the rooms that Melanie has done."  Especially having not been back into the residential [design] world that long, I couldn't have been more flattered to get a personal request!!
During our consultation, it was evident that this homeowner knew what she wanted and how she wanted it, but didn't know quite how to get there.  She has very specific needs when it comes to function, had determined a budget to realize the result, and had an aggressive time frame to boot.  She was retired after all, so why would she not want what she wants?!  It was essential her new space be more functional as she needs to utilize this home full-time after selling her Arizona winter-home.  Here are some specifics on how we got there :
//  Overall, replacing the very commercial-looking low loop carpet with hardwood brightened up the whole space, making it current and relevant.  We refinished her stair treads and handrails for continuity, and added a modern patterned carpet runner for a punch of color and visual interest in the hall off the entry.
//  The living room needed a comfortable working space dedicated to her spinning wheel (yes, like the wheel in Sleeping Beauty!), which we highlighted -center stage- between two towering bookcases creatively accessorized with old and new tchotchkes in the coordinating shades of blues and hues of greens.
//  The existing sitting/TV area layout was apropos, however, needed a little sprucing.  We replaced the marred leather Barcelona chairs with higher, firmer club chairs in a loose-weave neutral fabric; added a large area rug to delineate the room's boundaries and adjoin the furniture pieces creating a comfortable conversation area; replaced all the occasional tables with an assortment of new pieces mixing textures, finishes, colors, and styles; then layered in new throw pillows, lamps and accessories to tie everything together.
//  The dining room was probably the most fun because it was the most impactful transformation.  We kept the round pedestal dining table, which was a family heirloom, and had it refinished, livening up the natural heavy oak graining.  Everything else was done away with. First, we added an area rug to protect the new floors from the dining chairs and anchor the table to the room; then we removed the off-centered can lights and replaced them with a new chandelier – hung high enough to clear the table with its fully collapsed, but full enough to fill the space when the table's leaves are inserted.  We replaced the old chairs with new fully-upholstered parsons chairs in an almost white [and VERY durable] fabric and coordinating captain's chairs with arms covered in navy, all to a make this room still inviting yet slightly more formal feeling.  We added a stunningly large and very heavy modern side board for all her serving storage; installed some oversized/large-scale art to create impact and focus; and fully dressed the dining  table for the "wow-"factor!
And the "wow-factor" is what we got!!  When the homeowner walked in the door, that's exactly what she said, "OH WOW!"  I'm so happy she remembered to mention me, but even more so that she loved what we could do for her!
Looking forward to what's next! … xoxo, MLC
The following two tabs change content below.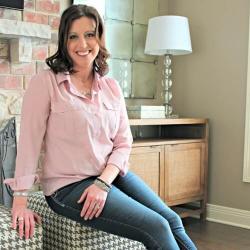 My entire adult life I've been passionate about all things interior design. After receiving my degree in Interior Design with an emphasis in Architectural Design, I have worked in Visual Merchandising, Residential Design and in Commercial Design for a national retailer; my heart is and always has been in any design position that allows me to provide my clients with the utmost stylized space for their taste and function. It has been my pledge for over 12 years to create new spaces by fulfilling the parameters set by the client while communicating openly and working together, to use the most current techniques and strategies to propose innovative designs, and to develop and install new environments with creativity, knowledge and excellence. Nothing makes me happier than to see a client swoon over their re-decorated, remodeled, or renovated area.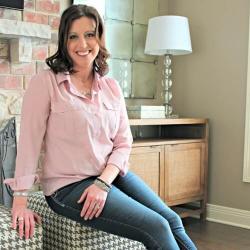 Latest posts by Melanie Christoff (see all)