With the recent chill in the air, we have quite a treat for you!  A guest post from the one and only Luxedecor!  You're welcome.
How To Style a Cozy Fall Bedroom
Creating a comfortable, chic and cozy bedroom might seem like a daunting task. What colors, furnishings and décor work for a worry-free bedroom? If you've been pondering redecorating or designing a nightly nest, we've got the tips and tricks you need to create a sleep space that you'll never want to leave.
Here are a few design ideas to give your bedroom a fall face lift just in time for the cooler months:
Image Credit: Image Via Sainsbury's
A rustic bedroom retreat offers the perfect spot for sleeping in style. Here, a faux fur rug and wood panel accent wall capture a country aesthetic, that's perfect for fall time. Lots of layered blankets offer a cozy space to curl up on chilly evenings, and orange and red hues throughout further an autumnal ambiance. From its warm palette to chunky knits, this bedroom is full of fall flavor.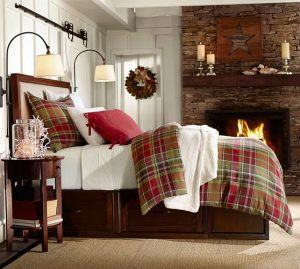 Image Credit: Image Via Pottery Barn
For a more traditional fall look, this cozy bedroom is the perfect spot for relaxing and resting. Crisp sheets, a beige quilt, fuzzy blanket, and plush comforter ensure plenty of layers to keep warm on even the coldest of nights. The many layers also contribute to the overall aesthetic of the bedroom, bringing texture and color to the space. The quintessential signal of changing seasons, a roaring fire in the stacked brick fireplace brings an added source of snug comfort.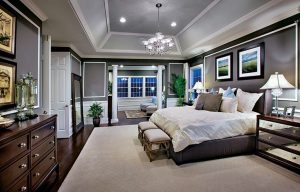 Image Credit: Image Via Pinterest
Opulent and full of flair, this master bedroom will feel like a resort getaway during the chilly days of autumn. A statement chandelier, mirror dresser and large pillars, plus a bonus seating area, make this room feel large and luxurious. Extra decorative charm in the way of glass jars, a large floor mirror and a bit of plant life create a room that is swanky and stylish.
Image Credit: Image Via Bond&Co.
This fall sleep chamber is as unique as it is cozy. An inviting bed is flanked by a candle lantern on one side and a matte black fireplace on the other. Awash in dark grey and tan hues, the palette creates a soothing ambiance that's still appropriate to the fall season. A wooden accent chair, area rugs, and a potted plant further dress up the space, while layered blankets and pillows offer a comfortable place to tuck in to sweet dreams.
Image Credit: Image Via Dear Lillie
A quaint country bedroom with tasteful touches of fall-time decor is just the ticket for those hoping to subtly honor the autumnal season. A simple white quilt and complimentary tufted accent chair offers a neutral canvas for orange accents. Introduce a couple of accent pillows, a cozy throw, and fresh foliage in warm hues that can easily be swapped out whenever you'd like to redecorate the space.
Guest Post by Amy Spagnola for LuxeDecor
The following two tabs change content below.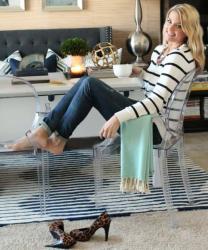 Wow time flies!! 12 YEARS!! My team and I are so thankful and grateful to all of our clients, industry partners, family, friends and fans. Cure Design Group has been like living a dream…a dream that was developed to live out my passion and inspiration through my own firm. Creating a way for designers to be creative and supported, a way for me to raise my girls and have work/life balance. I think this is something every Boss Babe wants right? Prior to CDG's inception, I had spent 10+ years in upper management of the Fashion and Interior Design Industry. With a passion in marketing, merchandising and design, my diverse background led me into designing and creating this Interior Design Firm. With my education and experience in the industry, I am able to support my design staff and you as the client through the design and special order process to ensure the best possible experience. I am passionate about my people, my team and our clients. It is my personal mission to provide a fun and interactive environment and I will do my best to uphold your personal standards for excellence.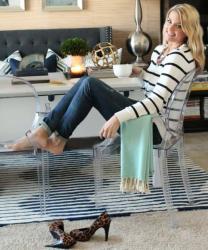 Latest posts by Sara Luigs (see all)