Custom Contemporary Craftsman-Kitchen Remodel
This client started off just being curious about our services – what we could do, and if we could even help her update her kitchen.  She and her husband with their two teenage kids have lived in their home for several years without updating anything since the house was originally built.  They didn't quite have a budget in mind yet.  They didn't know their style, or even if they had one.  Their timeline was simple, "as fast as you can so we're not without a kitchen for very long" (usually what we hear for kitchen updates).
After a very productive consultation: determining the scope of work and zeroing in on a budget, I was very excited to update this underwhelming space to something that is modern but timeless, something that is theirs.  And, it was easy to see what type of design style they gravitated toward looking at the pieces they already own: Craftsman/Prairie Style.  I left the meeting so excited to weave in yet another genre of design to my CDG portfolio!  We circled in our contractor design-build expert LU Design Build to discuss the changes they were looking to make and the scope of work that would be theirs.  Then I was off to get designing:
// Because the kitchen's footprint and the defined breakfast space delineated by the bay, we kept the perimeter cabinetry as it was originally laid out.   We updated these cabinets to a beautiful soft Alabaster White with a Barn Wood Glaze to highlight the simplicity of the shaker style doors.  We added transom cabinets above the uppers, with only the back wall having seeded glass inserts to highlight some of their collectibles.
// The original shaped island was counter-productive (See what I did there?) in functionality and design.  We squared this off to reduce some of the angles and gain more storage. We highlighted the new island with a contrasting oak cabinet in a dark finish, to pay our respects to the craftsman style, and topped with a concrete-like countertop as a nod to the Prairie Style, allowing the homeowners to gain two extra seats and a massive -uninterrupted- work surface.
// The small section of cabinetry between the garage entry and fridge now is the perfect dump-station for mail, electronics, whatever is in their hands when they come into the house; and completely hidden by the refrigerator.
// The disconnected cabinetry in the breakfast area makes for a great place to have a working office.  Accessible from the kitchen or the adjacent great room, this is the perfect place for the kids to do their homework while mom and dad are putting together dinner.  The base cabinets are built out for office-type storage: paper and pencil drawers, filing systems, and cord management.  Additionally, the long counter provides a ton of worksurface to spread out.
//  The largest transformation was the pantry.  We raised the height of the doorway and added huge custom designed bypass sliding barndoors.  Finished with a dark stain to compliment the island and cut to inset 4 stained glass windows, typical of this style of design, and driving home the concept for the whole space.
// They were desperate to replace their flooring with something extremely durable to flow throughout the kitchen and the whole main level.  This beautiful new flooring is actually a textured LVT(!)  Which allowed them to save on overall cost and extend the life of their new flooring purchase.
// They loved their copper table, so we kept it and added new simple, mid-century modern chairs around it and a shiny new craftsman-style chandelier above. We added bright barstools in a burnt orange-red accent, and a bright woven rug to tie it all together.
// As every designer knows, a room isn't finished until there's something on the windows.  Now that the new flooring was installed and every other room on the main level 'seemed' to be updated, we needed to update the window treatments in the dining, and great rooms to reflect their new design concept.
I hope you find the 'after' photos refreshing (as refreshing as it was for me to work on something that's not a "Farm House" style that's saturating the industry right now!)  This was such a fun project and a great collaboration with our contractor.
Looking forward to what's next! … MLC
The following two tabs change content below.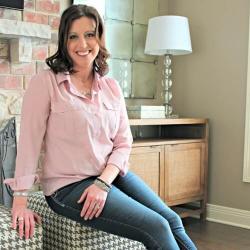 My entire adult life I've been passionate about all things interior design. After receiving my degree in Interior Design with an emphasis in Architectural Design, I have worked in Visual Merchandising, Residential Design and in Commercial Design for a national retailer; my heart is and always has been in any design position that allows me to provide my clients with the utmost stylized space for their taste and function. It has been my pledge for over 12 years to create new spaces by fulfilling the parameters set by the client while communicating openly and working together, to use the most current techniques and strategies to propose innovative designs, and to develop and install new environments with creativity, knowledge and excellence. Nothing makes me happier than to see a client swoon over their re-decorated, remodeled, or renovated area.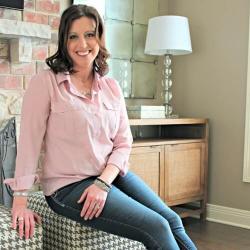 Latest posts by Melanie Christoff (see all)