Maternity Master Bedroom // Creating a peaceful space
This client reached out to us after being referred by another designer [she had too much going on to take on more projects].  It was a very gracious gesture, not to mention flattering!  A compliment to our service and style, not too common a practice in this industry.  This client needed help, and she needed it soon.  They were expecting their first baby and almost every room in their house had been designed, except for the master bedroom.  For all of us moms out there – we know how important it is this room be inviting, comfortable, functional, and peaceful.  After all, she's probably going to be spending every minute of the next couple of weeks hunkered down in it!
I didn't have much style direction from the homeowner, other than the rest of the rooms in her house designed by another designer.  Because she was satisfied with the look of those rooms, that's where I started.  I also didn't have to worry about reusing any furniture, because the only thing they had in the room was their bed.  Which fortunately was a good neutral, so the sky was the limit!  As the project progressed, she did share some stricter criteria for sourcing their new furniture and material selections: these items should be [mostly] made in the USA with minimal-to-no particle board and be made from organic cotton and/or natural materials, nothing synthetic.  Her husband has severe allergies, so being hypoallergenic was also a must, even with the air purifier.
… Off I went!
// I first found the rug as the color inspiration for the whole room.  Comfortable neutrals with subtle punches of a soft sage and muted peacock,
// Repainting the room in a much lighter color lightened the entire room, making the whole space feel brighter and more open.  Painting a pop of peacock to the top of the angled tray ceiling gives this otherwise completely neutral space visual interest in an unexpected place,
// The series of botanicals in a traditional frame are both feminine in composition, and masculine in color,
// Modern oak casegoods finished in a rich cool brown with gold metal hardware offset the traditional accents,
// Matching lamps and mirrors over the mis-matched nightstands create balance and harmony to either side of the headboard,
// Finally, layering lots of different soft textures that are almost the same color on the mattress creates that hotel-like feel, giving her the perfect nest to care for her new little one.
It was such a pleasure working with this client and providing her with a beautiful retreat to bring a new baby home to.  Following the installation and her delivery, she shared with us:
"I am SO happy that our bedroom is so perfectly decorated.  It's definitely helpful to have a happy place to retreat because 1) having a newborn is both amazing and extremely challenging and 2) post-partum emotions are a real thing and our bedroom just makes me happy.  I wish we'd scheduled our newborn lifestyle photos in our bedroom!!"
You're welcome, momma.  You deserve it.
All the feels.  On to the next one!  …. MLC
The following two tabs change content below.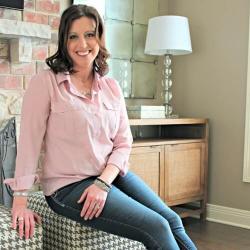 My entire adult life I've been passionate about all things interior design. After receiving my degree in Interior Design with an emphasis in Architectural Design, I have worked in Visual Merchandising, Residential Design and in Commercial Design for a national retailer; my heart is and always has been in any design position that allows me to provide my clients with the utmost stylized space for their taste and function. It has been my pledge for over 12 years to create new spaces by fulfilling the parameters set by the client while communicating openly and working together, to use the most current techniques and strategies to propose innovative designs, and to develop and install new environments with creativity, knowledge and excellence. Nothing makes me happier than to see a client swoon over their re-decorated, remodeled, or renovated area.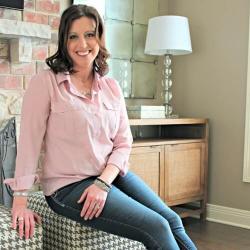 Latest posts by Melanie Christoff (see all)