TOWER GROVE TRANSFORMATION // LIVING + DINING ROOM INTERIOR DESIGN
I was extremely flattered [and a little surprised!] when these clients reached out via Facebook to ask for my professional help with their living and dining rooms.  This is a couple that kicks ass and takes names.  They play hard and work harder.  Both living the corporate-life working crazy hours, sharing multiple google calendars, running marathons, attending concerts, flying to distant lands for a little R&R, and caring for their babies –two polite and oh-so-adorable Rhodesian Ridgebacks [this is a breed of dog, for those cat people out there].  I think it might go without saying that these two didn't really have much time to make their house a home, and being the designer I am, where my priority is a beautifully designed home to fit your needs and lifestyle, I was out-of-my-mind-excited to step in and help out!
During the typical initial design consultation, standing in the middle of their two rooms, I could see we had a good list of to-dos and to-gets.  They had recently removed the wall between the living and dining rooms, which opened up the floor plan but unbalanced the feel.  They also replaced the flooring to visually unify the two spaces, but this left their existing furniture looking aged, out of place, and out of scale.  But they were making great progress!  And this is where I came in.  We put together a list of needs and came up with the following short summary of this project:
[bonus: Mr. Homeowner is extremely handy and was willing to strap on his tool belt to save this project time and money; which created lots of opportunities!]
//  Create a focal point for each room keeping the paint color, flooring, and structure intact.
//  Replace furniture, ceiling fan, chandelier, task lighting, and accessories [with the exception of the dining room table, chairs, and mirrors].
//  Add area rugs and window treatments to soften both spaces but delineate each as its own.
We had such a great time coming up with the final design of this space, both the homeowners and I.  We revisited a few different pieces a few different times to find the perfect solutions, and in the end their house looks stunning – both masculine and feminine, formal yet inviting, comfortable and cozy, upscale and sophisticated without being stuffy.  Mr. Handy-Homeowner himself replaced the chandelier in the dining room, the ceiling fan in the living room, and furred-out and clad the living room [faux-]'fireplace' wall in a black tile and mounted their TV and surrounding A/V equipment creating the a clean, modern focal point just as you enter the home.  The windows and the sofa are eloquently symmetrical, juxtaposing the few diminutive details of asymmetry.  Their existing dining room table and chairs blend beautifully with the new minimal modern concept.  We added a bar cabinet between the two rooms merging their functions, adding storage and a sense of purpose to the space in between, making it the perfect solution for social gatherings.
They were both away on vacation when we installed this project, so it took longer than usual to hear their responses…. it was kiiiillllllllllliiinnnnnng me.  Mrs. Homeowner called me 20 minutes after walking in the door, before even putting her bags upstairs.  I'm thrilled to report that they both fell in love!  Nothing takes the sting out of coming home from a vacation quite like a house crash!
On to the next one … xoxo, MLC
The following two tabs change content below.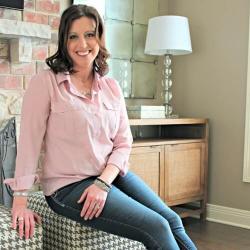 My entire adult life I've been passionate about all things interior design. After receiving my degree in Interior Design with an emphasis in Architectural Design, I have worked in Visual Merchandising, Residential Design and in Commercial Design for a national retailer; my heart is and always has been in any design position that allows me to provide my clients with the utmost stylized space for their taste and function. It has been my pledge for over 12 years to create new spaces by fulfilling the parameters set by the client while communicating openly and working together, to use the most current techniques and strategies to propose innovative designs, and to develop and install new environments with creativity, knowledge and excellence. Nothing makes me happier than to see a client swoon over their re-decorated, remodeled, or renovated area.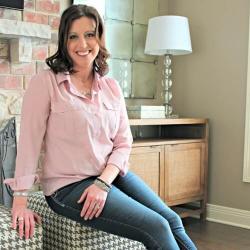 Latest posts by Melanie Christoff (see all)