MODERN LIVING ROOM // UPLIFTED
What do you do when you're overwhelmed with how lengthy your to-do list is and have no idea where to start?  Trust your designer… that's what.  😉
I met my fantastic client early this summer and was so excited to help her put a game plan together to ease her mind and transform her house into something magical – one baby-step at a time.  During our consultation we walked her entire house, I scribbled everything she was wanting [and things she didn't know she was wanting] onto my sketchbook while talking about timing, budget, priorities, needs, wants, etc.  After breaking apart everything she was looking to accomplish into seven manageable phases [get excited, this means more to come later!] we were off to the races to transform her very dark living room into a space where her family and friends could enjoy spending time together.
Here's where we felt this room needed some big changes:
//  The almost-new sectional was way too large, way too low, and way too dark for this space, which provides the exact opposite my client is looking to achieve for this room as it relates to comfort and functionality.
//  The lined woven window treatments block far too much light leaving it dark and cavernous; let alone only four can lights illuminate this room at night.
//  The recently updated built-in shelves on either side of the fireplace were also too dark and accessorized inconsistently to provide the appropriate focal point this room desperately needed.
The list really isn't long, nor is the scope of work extensive.  All this room was asking for was a little uplifting, and what my client couldn't see, I certainly could!
I replaced the large sectional with a scale-appropriate sofa loaded with brightly colored accent pillows.  I included a matching club chair to deliver a sense of uniformity, sitting across from two accent chairs providing more seating while entertaining.  Mixing the materials, textures, and colors provides her with the eclectic "pottery barn" feeling she was looking for, all anchored together on top of the stunning new area rug cohesively grounding new colors together.  Not to mention the juxtaposition between the individual pieces installed: industrial steel and wood occasional tables paired with a very modern acrylic side table, rustic hair-on-hide foot stool sitting in front of a streamlined club chair and full-height Taffeta window panels.  To brighten the space was simple – the lining was removed from the existing woven window treatments and the light yellow paint on the walls both remain and blend perfectly with the new design style. Adding some task lighting and re-accessorizing (get it?  Re – Accessorizing?  Re-doing the accessories?  heh. sigh.) the bookshelves and generally throughout the room completed this transformation beyond my clients expectations.  I just love happy endings.  Enjoy the after photos!!
xoxo, MLC
The following two tabs change content below.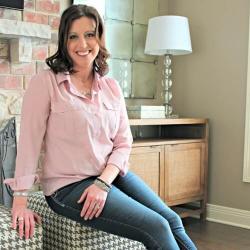 My entire adult life I've been passionate about all things interior design. After receiving my degree in Interior Design with an emphasis in Architectural Design, I have worked in Visual Merchandising, Residential Design and in Commercial Design for a national retailer; my heart is and always has been in any design position that allows me to provide my clients with the utmost stylized space for their taste and function. It has been my pledge for over 12 years to create new spaces by fulfilling the parameters set by the client while communicating openly and working together, to use the most current techniques and strategies to propose innovative designs, and to develop and install new environments with creativity, knowledge and excellence. Nothing makes me happier than to see a client swoon over their re-decorated, remodeled, or renovated area.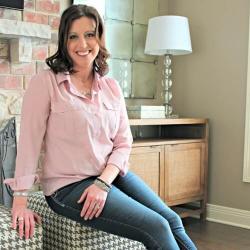 Latest posts by Melanie Christoff (see all)