Mediterranean Manifesto // A Color Splash Event
A Mediterranean themed event to benefit Gateway180, the largest Women and children's homeless shelter in St Louis.  We have the sole responsibility for creating the atmosphere for their events through the overall vision, concept, design and decor.  These events of nearly 300-350 people take about a year to plan in all of its design glory from sponsors, to flowers to the art projects created by the kiddos that are auctioned off to benefit the kiddos.  So to create a moody atmosphere, eclectic and sassy was probably the most fun to date.  We got to play with color and add a spicy-ness that past galas had not entertained.  And Im so glad we did.
Live Latin music, dancers performing, dark mood lighting and incredible handmade centerpieces with exotic flowers made the event that is still the talk of the town.  Here are my initial inspirations for the event…
Infusing saturated colors and textures, bringing in deep moody purples, burnt oranges, reds and even turquoise help create the atmosphere.  Over sized centerpieces that flank the perimeter of the dining space, [hand made by my cute husband, yea…we do what we can around here…make. it. work.] Tropical flowered hurricane centerpieces  with submersible red LED string lights on the guest tables [DIE]  Ribbons created a canopy overhead under the mezzanine, lighted colorful lanterns and low profile modern lounge allow guests to mix and mingle to the Latin  musical stylings.   The final event looked a little something like this…
What a fun and spectacular event for Cure and Gateway 180.  Cheers to many more events together!
If you need assistance conceptualizing, visualizing, designing and facilitating your next event, please give us a call, we would love to help!
The following two tabs change content below.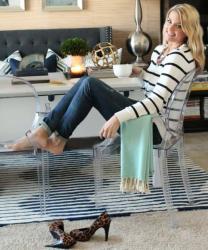 Wow time flies!! 12 YEARS!! My team and I are so thankful and grateful to all of our clients, industry partners, family, friends and fans. Cure Design Group has been like living a dream…a dream that was developed to live out my passion and inspiration through my own firm. Creating a way for designers to be creative and supported, a way for me to raise my girls and have work/life balance. I think this is something every Boss Babe wants right? Prior to CDG's inception, I had spent 10+ years in upper management of the Fashion and Interior Design Industry. With a passion in marketing, merchandising and design, my diverse background led me into designing and creating this Interior Design Firm. With my education and experience in the industry, I am able to support my design staff and you as the client through the design and special order process to ensure the best possible experience. I am passionate about my people, my team and our clients. It is my personal mission to provide a fun and interactive environment and I will do my best to uphold your personal standards for excellence.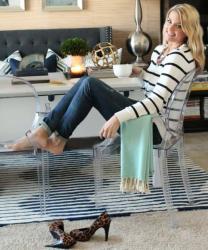 Latest posts by Sara Luigs (see all)