I have been in LOVE with my office since the #redux about a year ago.  Shame on me for not photographing it sooner, but to be honest, a messy desk is a busy desk, and we have been fortunate to be very "messy"…I have a before picture, but I am ashamed to share.  Picture this, all matching dark wood furniture, a dreaded corner (ewe) desk and everyday taupe office chair on casters!  ahhhhh!  I cant even think of it, makes me (((shudder)))  Needless to say, it was less than inspiring.  It got the point that I didn't want to work in there, like ever.  So, I got a plan together to rearrange the layout, began researching my "If I could redo my office…what would I really want" furniture finds and began doing what we do best.  Designing a dream space.
I amped up the color palette, creams, grays, whites, navy, and mint, I do love me some mint nowadays.  Added a textured natural sea grass to the back wall, re purposed the two espresso bookshelves, two file cabinets, flanking the bench-literally measured 72 times to make sure it would all fit along the back wall, and it literally looked like if I hand made each piece, it couldn't have fit in any better,  floating the desk in the center of the space that house two Louis XVI ghost chairs.  Added the famous Arco floor lamp [which I die for] that leans over the entire space in lieu of an overhead fixture and mounted a modern 60″ linear electric fireplace. [I know, I know…electric…I researched a bio fuel burning one but I like the ambiance of the sparks flame all year round and didn't want the heat, ya know…?]  I did find one that was super chic, liner flame like a sparks and clear glass chips to ground the flames and adds a reflective quality that is so pretty.   I found some ginormous table lamps at a local retailer that fit the space perfectly while shopping for a client, [I always do that] and finished off the space with some floor to ceiling linen drapery panels…And Viola!
Of course, my husband being the very sensible and techy man that he is, thought that floating the desk with all the logistics of running a business would be a nightmare…ssssshhhh, what you dont see wont hurt you.  I assured him we would figure it out and he did, he's so good.
What is my favorite part?  I thought you would never ask…it has to be the Charcoal linen, tufted mod bench with silver nail head trim, in lieu of an office chair.  DIE.  Pretty ingenious if I do say so myself.  Just adds an unexpected design element to an office space, and oh so functional.
Take a look at my finished studio space!  I LOVE IT, and I hope it inspires you to take a "problem" space to the next level, this space was definitely  CURED.  Need help rocking out your home or office?  Give us a call!
The following two tabs change content below.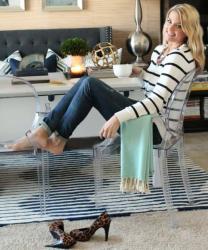 Wow time flies!! 12 YEARS!! My team and I are so thankful and grateful to all of our clients, industry partners, family, friends and fans. Cure Design Group has been like living a dream…a dream that was developed to live out my passion and inspiration through my own firm. Creating a way for designers to be creative and supported, a way for me to raise my girls and have work/life balance. I think this is something every Boss Babe wants right? Prior to CDG's inception, I had spent 10+ years in upper management of the Fashion and Interior Design Industry. With a passion in marketing, merchandising and design, my diverse background led me into designing and creating this Interior Design Firm. With my education and experience in the industry, I am able to support my design staff and you as the client through the design and special order process to ensure the best possible experience. I am passionate about my people, my team and our clients. It is my personal mission to provide a fun and interactive environment and I will do my best to uphold your personal standards for excellence.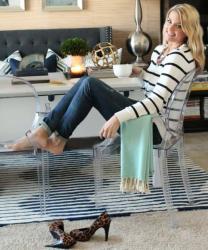 Latest posts by Sara Luigs (see all)