CONTEMPORARY DINING ROOM // THE BLUES AREN'T ALWAYS SAD!
It's so true what they say, "When one door closes, another one opens," and was exactly the case when one of my previous client's sisters called me to help design her dining room.  She path paved by another designer, but was looking for a true design soul-sister, to really amp it up and tie it all together.  She wanted someone to be honest with her and her style, to give her what she was looking for even if she hasn't said it.  Someone who can speak to her without all the design-jargon confusing matters and help her find what she really needed.  This is typical of the design process and a talent that not every designer has.  [Disclaimer to all potential clients: sometimes designers don't listen to what you're thinking.  But the good ones do, and they should… it's our job!  The key to a good designer-client relationship is transparency.  That's it, plain and simple.  You tell me what you need and how much you want to spend, and I'll give you what you're looking for … Ah hem … I digress.]
Like I said, the emphasis was the dining room and the objective was to find a table large enough to seat 10 people for the infrequent holidays and frequent social gatherings of the years to come.  She wasn't interested in a china cabinet, buffet, server, or any other piece of furniture; meaning my work was cut out for me shaped in the finishing touches and little details that would create a big impact.  The public spaces of the main level are all visible from the front door and are open to one another, completely unobstructed.  As beautiful as they are, open concept floor plans create their own challenges when trying to devise a delineation between "rooms."  The concept I conceived included two big items:
// A table that without any leaves sat at a proper 84" wide and was able to comfortably seat 6.  But add the leaves and we're looking at a beautiful beast that's 124" long and capable of seating 10 and without engaging in an elbow fight with your neighbors.
//  A textural wall to distinguish the dining room as its own space.  An area rug was out of the question (the client said a hard-"no" to any rug under her new table), but adding a large-scale focal point -like a rough but smooth, masculine but sparkly, dark  but reflective wallcovering- accomplishes the same.
After the main pieces were selected and in place, it was easy as throwing a tray there, a candlestick here, some accessories, new art, and area rugs (where approved) to polish this gem into the dream it deserves to be.  I guess you could say this dining room has got the blues… but it's the happiest case of the blues I've ever seen, don't you agree?!
All the best … xoxo, MLC
The following two tabs change content below.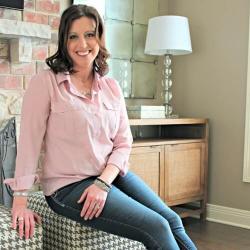 My entire adult life I've been passionate about all things interior design. After receiving my degree in Interior Design with an emphasis in Architectural Design, I have worked in Visual Merchandising, Residential Design and in Commercial Design for a national retailer; my heart is and always has been in any design position that allows me to provide my clients with the utmost stylized space for their taste and function. It has been my pledge for over 12 years to create new spaces by fulfilling the parameters set by the client while communicating openly and working together, to use the most current techniques and strategies to propose innovative designs, and to develop and install new environments with creativity, knowledge and excellence. Nothing makes me happier than to see a client swoon over their re-decorated, remodeled, or renovated area.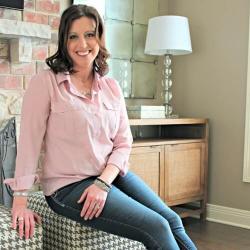 Latest posts by Melanie Christoff (see all)