5 Design Styles Defined
"Questions about whether design is necessary are quite beside the point, there is either good design or bad design, not no design at all.        -Douglas Martin
Many of our clients struggle when trying to describe their "design style"  I think we all appreciate most of the design styles, whether or not we would choose them for our own homes.   There really is no right or wrong, just your personal interpretation of what the style means to you.  Here are 5 of our favorite Cure Design Group projects to date, Design Styles Defined.
So hold on…here we go…!
#1   Mid Century Modern by definition [for real, Wikipedia told me so] is an architectural, interior, product and graphic design that generally describes mid-20th century developments in modern design, architecture and urban development from roughly 1933 to 1965. The term, employed as a style descriptor as early as the mid-1950's, was reaffirmed in 1983 by Cara Greenberg in the title of her book, Mid-Century Modern: Furniture of the 1950's (Random House), celebrating the style that is now recognized by scholars and museums worldwide as a significant design movement.
Style Defined: A collected vintage feel with modern lines, often tapered legs to furniture, interesting mixture of fabrics and not overly accessorized.                                                                   [For more images from this project, click here]
#2   Contemporary-To some, Contemporary design might mean "trendy", #truth, but to me, it also takes on a style that is clean and fresh.  Often mixing brighter, bold colors to pop the space with accessories; be careful not to make design choices that will "date" you in 10 years.  Make timeless choices, by selecting neutrals for larger furniture pieces and changing out your accent pillows, occasional chairs or window treatments to keep it looking fresh until you are willing to invest in the main furniture pieces again.
Style Defined: Not afraid of taking chances, modern clean lines, bold[er] colors, use of natural elements such as metal, glass, concrete or marble. Not over accessorized but mindful style decisions make the space unique. [For more images from this project, click here]
#3    Transitional-Not to insult the mass majority, because I too find myself as a general "transitonalite"- but I think this style seems to be a more diluted version of Contemporary style-and in general, that is a good thing, I like mine with a side of glamour but that's all in the styling.
Transitional design, has been a term more commonly used in the past 5-10 years.  Gave more traditional design lovers a chance to break out of their comfort zone with much less of a commitment than risking their home looking like the set of the "Beetle-Juice" …EEK!
  uuummmm…..whaaat?
Playing up the mixture of traditional and contemporary, designers have always known it to be "OK" to mix design styles if done properly and mindfully.  I think DIY-ers are now attempting it themselves, whether successfully completing the task or not, they are more apt to take the risk and appreciate the softer side of contemporary.  See, its not so scary after all…
Style Defined: Clean lines to furniture styles, [for example, a straight sofa arm, but with a twisted traditional leg to the sofa] Muted color palette with potential for a saturated pop of color here and there.  Traditional in its accessories and styling.                                                          [For more images from this project, click here]
#4   Traditional-A more reserved approach to one's home, whether casual or formal, clients feel comfortable with this design style because its reliable.   You can always count on traditional styled furniture being passed down from generation to generation, which is probably where the term "Transitional" came into play, was from inheriting your granny's furniture and not having the heart to not display it in your own home that was a varying style, so why not mix it in and make it work right?
Style Defined: Often defined by the character of the home and its roots.  Curvy or carved wood furniture pieces, vintage or heirloom pieces collected over the years, heavy or dark character to the furniture and rich tone and textured fabrics, with details such as nail head trims, beaded trim or tassels to window treatments.                                                                                [For more images from this project, click here]
#5   Eclectic-Here is where it can get tricky.  Eclectic design term, also more common within the last 5-10 years, has taken on many, many different meanings from "I have a lot of junk" to incredible vintage finds hidden within a space.  We find ourselves often mixing in multiple family heirlooms into an eclectic space, the finds are what make it interesting!
Style Defined: A mix of many design styles, mindfully accessorized and styled using color and vintage and or collected finds.  Mixing large furniture pieces in reference to design style but maintaining the cohesion within the color palette or objective for the space.                          [For more images from this project, click here]
Do you need help identifying your design style?  [DESIGNER TIP]  Collect images online or tear sheets from your favorite magazines, mark what you like about the space and begin to curate the sense of your own design style.
Our designers listen, plan and design based on you, your lifestyle.  Translating your the vision into simply good design.
If you need help creating your design style and finished space, give us a call!
The following two tabs change content below.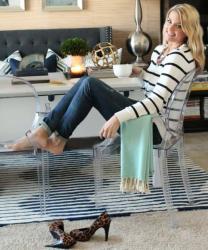 Wow time flies!! 12 YEARS!! My team and I are so thankful and grateful to all of our clients, industry partners, family, friends and fans. Cure Design Group has been like living a dream…a dream that was developed to live out my passion and inspiration through my own firm. Creating a way for designers to be creative and supported, a way for me to raise my girls and have work/life balance. I think this is something every Boss Babe wants right? Prior to CDG's inception, I had spent 10+ years in upper management of the Fashion and Interior Design Industry. With a passion in marketing, merchandising and design, my diverse background led me into designing and creating this Interior Design Firm. With my education and experience in the industry, I am able to support my design staff and you as the client through the design and special order process to ensure the best possible experience. I am passionate about my people, my team and our clients. It is my personal mission to provide a fun and interactive environment and I will do my best to uphold your personal standards for excellence.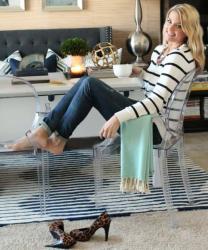 Latest posts by Sara Luigs (see all)