Designer Dreams Vol. 3
Hello all!
It's been awhile since I've done an installment of Designer Dreams, and now is the perfect time to bring one to you! The weather is rising (yes, 50 degress is considered warm at this point) and it's got me thinking all things tropical.  Today I am inspired by the ever classic Martinique patterned wallpaper.

It was based on the iconic Brazillance wallpaper installed by Dorothy Draper at the Greenbriar Hotel in West Virginia,
As well as at the Beverly Hills Hotel.
I have actually used outdoor fabric based on this design for my own balcony.
Basically, I'm a super fan.
I would love to create a Palm Beach Chic vibes cocktail lounge. Here is my vision…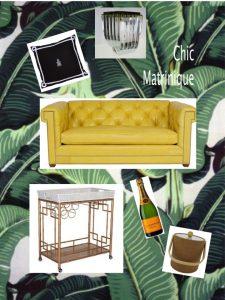 What do you say?  Would you "Cheers" there?
The following two tabs change content below.


Latest posts by Cure Design Group (see all)