// REINVENTING A MASTER BATHROOM //
So many ranch-style houses [especially in St. Louis] have a standard cookie-cutter "en-suite" off the master bedroom that may seem too tight to really have a uniquely designed space while still providing ample storage to keep it functional. Well, however small a room may seem, it's never impossible to create a modern retreat with storage solutions enough for all your toiletry needs.
This bathroom was exactly that: a small space with the potential for big storage. When you don't have the space to go out, you must go up! The existing bathroom [from the previous homeowners] was exactly the same size but lacked what was required to store the necessary items for both husband and wife to get ready in the mornings. And, let's be honest with ourselves ladies…. Using one face cream is just fine, but why do we keep three or four other kinds "just in case"?! Well, we do. We just need to. And therein lies the storage hurdles many households struggle to jump over.
BEFORE/DURING CONSTRUCTION PHOTOS!  Because who doesn't love a great Before + After right!?
Demolishing this bathroom down to studs was the first step in reinventing it. Removing the dropped soffit in the shower allows for more headroom and a higher shower head [who's idea was it to install a shower head so low anyway?!?], the composite shower surround was actually eating up several inches of precious real estate that needed to be recovered for the new shower, throwing out the weighty framed polished brass enclosure and replacing it with doors less visible was an absolute requisite [yuck!].
The shower update alone is a huge transformation for this small restroom. With the overall size limitations, I then just needed to replace the vanity with a more modern [taller] one, replace the mirror with something more decorative, and add shelving up the wall above the toilet – something other than the standard vanilla cabinets Lowe's and Home Depot carry.
Then the fun part begins: selecting new fixtures, new tile and the tile layouts for the flooring, the shower floor, shower walls and soap cubbies. Accessorizing and stylizing a small space like a bathroom is typically the first room anyone officially completes when they move into a new home. Why? Because it's usually the smallest space in the house therefore the fastest to feel "livable" when you're drowning in moving boxes.
In this space it was simple: mix some metals, add a couple different reflective surfaces, and blend a handful of textures to soften what could feel cold and uninviting if otherwise left naked. Essentially creating an overall "lived in" quality; a calm and peaceful retreat inviting the homeowners to feel comfortable using their modernized en-suite and giving them the opportunity at the start of every day to smile in their newly reinvented bathroom.
I hope these after-photos make you smile too!
Sincerely… xoxo, MLC
The following two tabs change content below.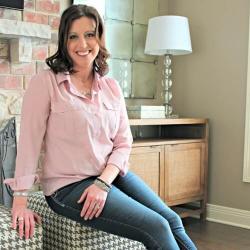 My entire adult life I've been passionate about all things interior design. After receiving my degree in Interior Design with an emphasis in Architectural Design, I have worked in Visual Merchandising, Residential Design and in Commercial Design for a national retailer; my heart is and always has been in any design position that allows me to provide my clients with the utmost stylized space for their taste and function. It has been my pledge for over 12 years to create new spaces by fulfilling the parameters set by the client while communicating openly and working together, to use the most current techniques and strategies to propose innovative designs, and to develop and install new environments with creativity, knowledge and excellence. Nothing makes me happier than to see a client swoon over their re-decorated, remodeled, or renovated area.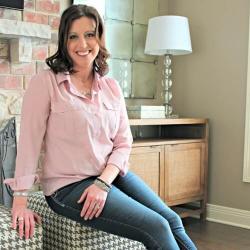 Latest posts by Melanie Christoff (see all)